Analysis: What's *really* at stake in Donald Trump's legal fights
[ad_1]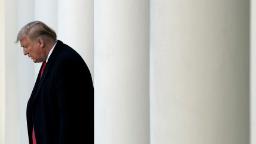 So the questions about whether he paid his taxes and how much he paid and how much he knew about the money that was paid during 2016 to two women alleging that they had extramarital affairs with him, which he denies, may not seem import com a lot month.
"Trumpism is not just him. It's a whole way of being in the world. It's about secrecy, domination, deception and fraud."
That is correct. And I said better than ever.
It's that image of a street fighter, of a guy operating under the theory that it's only a crime if you're caught, that Trump has spent his entire life cultivating and his presidency was meant to normalize.
What is at stake here is more than if Trump broke any law. These cases also deal with whether the most powerful (and wealthy) of us are subject to the established rules that the vast majority of Americans live by.
If punished – and how – it will send a clear signal to the country about how a citizen can act, especially when they hold a powerful elected office.
This is not to say that if Trump faces serious charges in any of these cases, he or his supporters will even acknowledge the possibility of his guilt. They won't, but they will choose to blame the "deep state" or the liberal media or something.
But for the rest of the country, it matters how Trump's legal struggles take place. Because decisions will send a clear message about whether what you are is more important than what you did when it comes to our laws.
The point: Trump is no longer president. Trumpism is still alive. And the struggle to define what it means and what power it will have is very important.
.

[ad_2]