CDC Director Confronted Over Why Vaccinated People 'Have To Pay the Price' for the Unvaccinated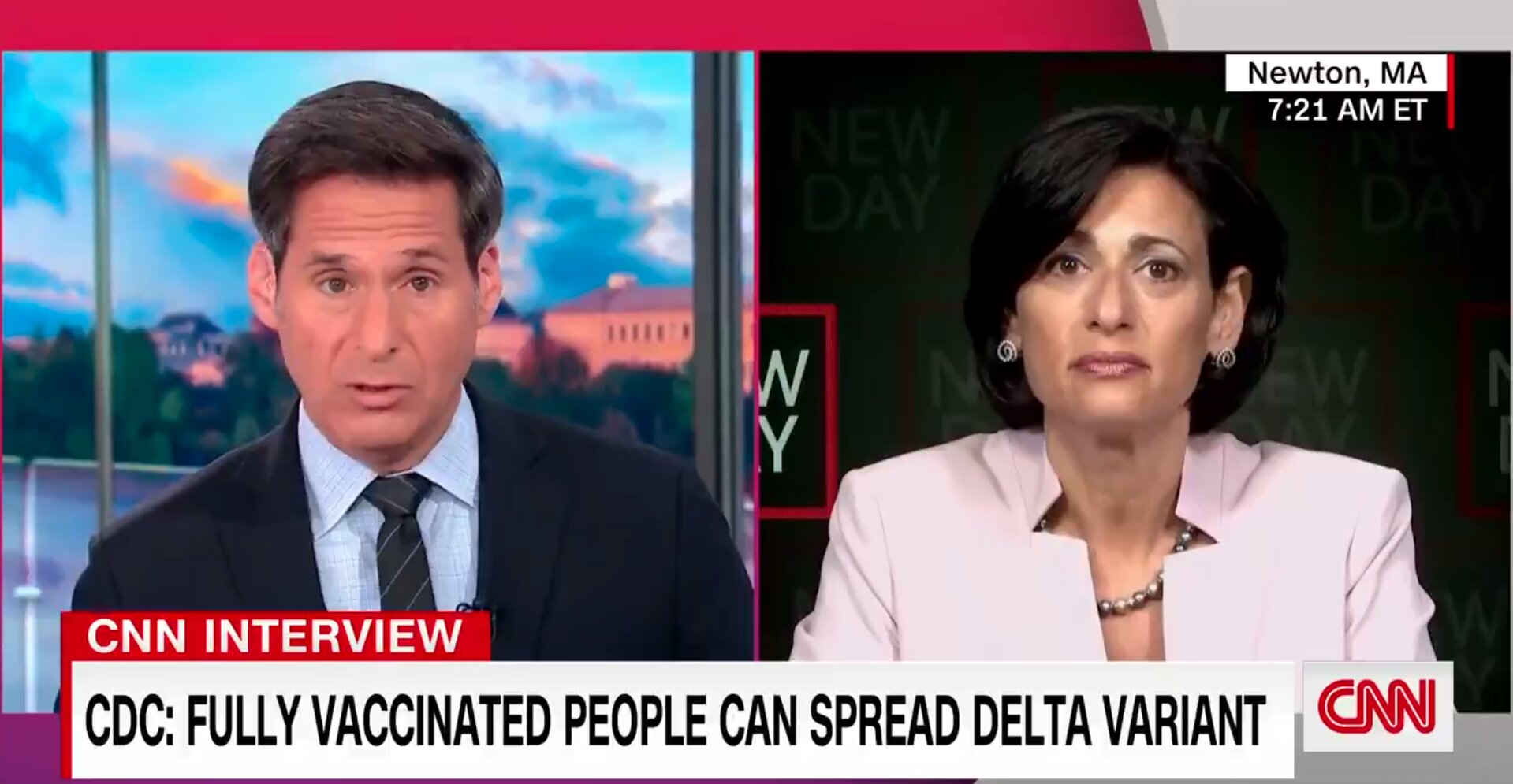 Center for Disease Control and Prevention (CDC) Director Rochelle Walensky insists on why the aforementioned COVID-19 cases have to "pay the price" and wear masks because of the COVID-19 cases.
In a show on CNN's "New Day," Walensky was asked by host John Berman, "Exactly what problem did the delta variant create that masks for the vaccinated?"
"In previous variations, when people had rare success rates, we didn't see the ability of them to spread the virus to others," he responded. "But with delta diversity, we're now seeing in our outbreak investigations that have taken place over the past few weeks, in outbreak investigations, we've seen that if you're having one of those infections successes, that you can really pass on. it's someone else. "
He also told Berman that a recent CDC brief record stating that "any associated transmission risk is likely to be significantly reduced among those vaccinated" is "no longer working."
"The science that motivated this guidance is only getting older. And in the coming days you will actually see the published science information that is driving this change," she said.
While Walensky said most transmission occurs between unvaccinated individuals, he stressed the CDC wants to let vaccinated people know that they can transmit the virus.
Watch the video below:
.@CDCDirector Dr. Rochelle Walensky on the new mask guide: "In the previous variations, when people had these rare infections, we didn't see the ability of them to spread the virus to others. But in the Delta variant. you can now pass it on to someone else " pic.twitter.com/K1qvfjNUrX

– New Day (@NewDay) July 28, 2021
Berman asked, "But for the most part, it's something that goes from unvaccinated people to unvaccinated people, right?"
Do vaccinated people pay a price for those who are not vaccinated?
"For the most part, absolutely," Walenksy proved.
The host pressed, "You can understand the frustration of our vaccinated people who say, 'Why do I have to pay a price for this?'"
"Right. So we're asking all of that areas of orange and red to mask. Here's why, if you're a vaccinated person and you're somewhere, like you said, a red sea, a Covid sea, you have a reasonably high chance, if no one is wearing a mask, to communicate contact people who may be contagious, "Walensky said.
He added, "For every 20 people who are vaccinated, one or two of them can get a successful infection. They can only get a mild illness, but we want them to know that they can take home a mild illness."
Berman's comments came a day after the CDC issued new rules which recommended that vaccinated people wear masks indoors in areas with "high" or "large" virus transmission.
We are committed to truth and accuracy in all of our journalism. Read our editorial standards.