Fact check: How a group of right-wingers spread a lie that Black Lives Matter stormed Iowa's Capitol Fact check: How a group of right-wingers spread a lie that Black Lives Matter stormed Iowa's Capitol
[ad_1]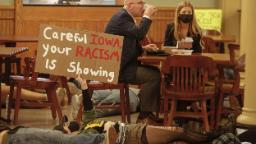 Some of them explicitly stated that the protesters had forced their entry into the building. Another suggested that what happened in Des Moines was "exactly" like what had happened at the U.S. Capitol in Washington on January 6th.
It was not like that. Not even close. Because Iowa protesters did not storm the state Capitol.
The imaginary storm saga of the Iowa Capitol offers another troubling example of how even unsophisticated lies can be thrown on the net faster than the truth. It also shows, once again, how the right-wing disinformation ecosystem often works: a false initial statement is spread over and over again, reaching an ever-growing audience, by people and publications who are not interested. to do not even basic research to see if this initial statement is true.
Joan Donovan, research director at Harvard University's Shorenstein Center on Media, Politics and Public Policy, said "there are influential right-wing determinants who act as a catalyst for a cascade of inaccurate claims." These influencers, he said, will tweet about an image or video with a false description attached, giving inaccurate shape to perceptions of a last-minute event. Other influencers aligned with them "will repeat the lie through blogs and social media," Donovan said in an email.
"When the claim is inevitably rejected, these proponents of misinformation shrink and say the mainstream media is lying or leading it to the chaos of the latest news. Unfortunately, the public and movements like Black Lives Matter are the ones paying the price for scale-amplified misinformation, "Donovan said. "Social media companies know how this pattern works, but they've done little to prevent it from happening again and again."
What happened at the Iowa Capitol
Once protesters made their way through security, they shouted, sang and lay on the ground for 9 minutes and 29 seconds to symbolize the death of George Floyd last May.
"Trying to call it an insurrection and compare it to January 6: that, my friends, is ridiculous. They went through the metal detectors, they checked the temperature, they had a right to protest. If some of them came out of the line, then the Capitol state police did their job, "Angelo said.
How this lie spread
Again, this is not true. But the truth didn't seem to matter to some.
Frustration of activists
Co-organizer of the protest, Harold Walehwa, told CNN that he was "frustrated and not surprised" when he saw the false claims of "storm" go viral.
"I feel like there was a desperate attempt to discredit our targets and paint people of color as violent insurgents," Walehwa said in an email. He added that "we had a permit to be there."
.
[ad_2]