First on CNN: US Border Patrol has encountered 32 large groups along the US-Mexico border this fiscal year
[ad_1]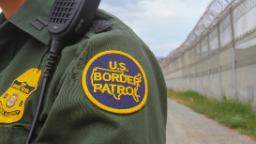 The number of large groups, made up of 100 or more people, exceeds 10 groups in fiscal year 2020, when border crossings fell sharply at the start of the Covid-19 pandemic, according to data from Customs and Border Protection. But the number of large groups has dropped
compared to 2019
during the border wave of migrants.
The data corresponds to the fiscal year, which begins in October, meaning that some of the large groups may have arrived during the Trump administration.
Border Patrol officials raised alarms this week about the rise of migrant children and families crossing illegally into the United States. For weeks, the
Biden Administration
has struggled to move children out of border facilities within the required legal deadline, putting pressure on resources and letting children languish in crowded conditions.
"No end in sight," Brian Hastings, chief patrol officer of the Rio Grande Valley
he tweeted
Wednesday, "while numerous groups continue to enter."
However, the number of groups is much lower than the 213 large groups found fiscal year 2019 during the increase in migrants driven largely by families from the countries of the Northern Triangle of Guatemala, Honduras and El Salvador.
It is also about half the number of large groups compared to a similar time period in 2019, when
70 large groups
he had been captured.
At the time, then-Secretary of Homeland Security Kirstjen Nielsen said the current border crisis "leaves many minors and families at extreme risk of being exploited by traffickers, human smugglers, gangs and other nefarious actors seeking to obtain benefits at his expense ".
These numerous groups usually include children and families, who generally become border authorities and do not try to evade detention.
The latest data shows the pressure facing officials at the border and comes when the administration makes a public relations launch to explain its efforts.
He stressed that a "border patrol station is not a place for a child" and said DHS is working with the Department of Health and Human Services "to move them quickly."
CLARIFICATION: This title has been updated to clarify that data on large group meetings come from this fiscal year.
.

[ad_2]