Live updates: Atlanta spa shootings leave Asian American communities on edge
[ad_1]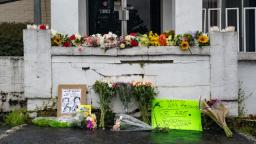 Several Asian American lawmakers, including Representatives Grace Meng, Doris Matsui, Judy Chu, Young Kim and Michelle Steel, and Senator Tammy Duckworth, stated before today a committee of the House on discrimination and violence suffered by the community.
"Our community is bleeding. We have suffered pain and we have called for help," Meng told lawmakers.
Chu, who chairs the Asian-American Pacific Congress, said the "Asian-American community has reached a point of crisis that cannot be ignored."
"What began last January as mere dirty looks and verbal aggression has turned into physical attacks and violence against innocent Asian Americans," he added.
Some of the group's Democratic lawmakers contributed to the increase in rhetoric attacks that former President Trump and other Republican lawmakers used to refer to Covid-19.
Reports of anti-Asian hate incidents have increased in recent months, including several violent attacks without provoking elderly Asian Americans, with at least three in the bay area captured in haunting videos this year. The view also came after a shooting range in the Atlanta area it left eight people dead, six of whom were Asian women.
Witnesses implored Republicans to reduce their rhetoric to after the attacks on the Asian American community, with Rep. Meng accusing a Republican of putting a "bull's eye" on them with his comments about China.
"Your president, your party, and your colleagues can talk about issues with any other country you want, but you don't have to do that by keeping an eye on Asian Americans across this country, on our grandparents, on our children. "Meng told Republican Representative Chip Roy of Texas.
"This hearing was to address the pain and sorrow of our community and look for solutions and we will not let you take our voice," he added.
Earlier Thursday during the hearing, Roy said his "concern for this hearing is that he seems to want to venture into the watchful eye of rhetoric in a free, free-speech society far removed from the rule of law and eliminating the bad guys ".
"I think the Chinese Communist Party that runs the Chinese country I think is the bad guys," he said.
Democratic Rep. Ted Lieu, who is a Taiwanese immigrant who served in the U.S. Air Force, also backed up Roy's claims, saying the hearing "is not about police speeches."
"I was on active duty so you can say whatever you want under the First Amendment, you can say stupid racist things if you want," Lieu said in comments Thursday. "But I ask you to stop using racist terms like 'Kung flu' or 'Wuhan virus' or other ethnic identifiers to describe this virus. I'm not a virus and when you say things like that, it hurts the Asian American community." .
Thursday's House committee hearing also dealt with the history of racism and xenophobia against Asian Americans, dating back to the 19th century. It was the first hearing in the House on discrimination against Asian Americans in more than three decades.
Watch a moment from the audience:
.

[ad_2]