McConnell Reveals Which Dem President He Would Pick To Be 'Stranded on a Desert Island' With
[ad_1]
News

June 29, 2021 at 4:56 p.m.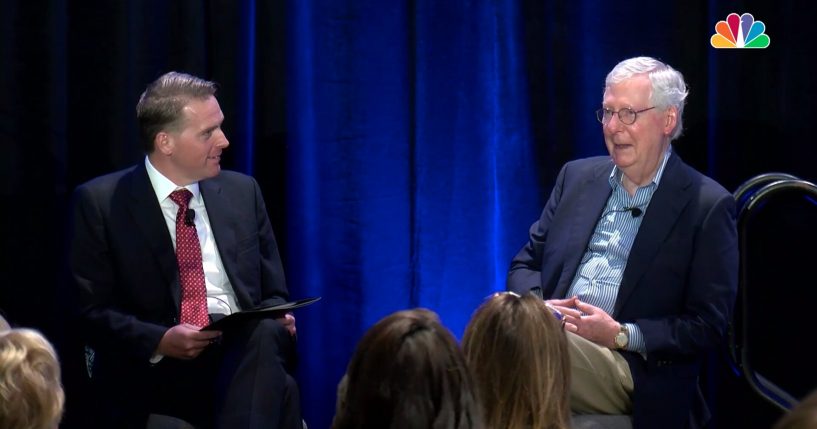 Head of the Senate Minority Mitch McConnell (R-Ky.) Shares which Democratic president he would choose to leave us on a desert island if he only had "one companion."At an event at the Kentucky Chamber of Commerce on Tuesday, McConnell was asked, "You're stranded on a desert island and you can only have one companion. Your choices are Joe Biden, Barack Obama, Bill Clinton or Jimmy Carter. Who will you choose? "

"That was a tough choice," the Kentucky senator replied.

He first ruled former President Jimmy Carter.

"I like President Obama. The only thing I didn't like about him was he tended to tell me in my face what I thought, and I once said, 'Mr. President, really, that's not what I thought. ko, '"he said.

Finally, McConnell said he would choose the current White House resident, "Biden and I made four bipartisan deals during the Obama administration. I consider him a personal friend. I'm the only Republican who went. at the funeral of his son Beau, so that's an easy choice. I think Biden is a first-rate person. "
Watch the video below:
McConnell has previously said he likes the President Joe Biden personally but strongly disagrees with his policies.
"He's a first-rate man … However, it's a brave administration on the left. I don't think they have a mandate to do what they're doing," McConnell told reporters in April.
He added, "I will fight them every step of the way because I think this is the wrong prescription for America."
We are committed to truth and accuracy in all of our journalism. Read our editorial standards.
[ad_2]